Wire Ropes and Grommets / Polyester Slings / Chain Slings
Wire Ropes and Grommets
To compliment the SectionLift range of Spreader and Lifting Beams we supply quality British manufactured wire rope slings and grommets designed to your specific requirements. Our slings can be offered as single, two, three, four leg or endless and can be manufactured from galvanised steel or stainless steel and we are able to offer a variety of end fittings including soft eyes, thimble eyes and various hooks and shackles. Our slings are manufactured to exacting standards which include EN 13414-1, DNV 2.7-1 and EN 12079-2. All our rope slings are made to order and if you require any assistance with the design of your lifting system our technical sales team will be pleased to advise.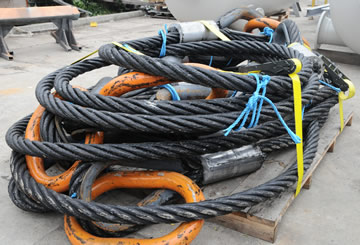 Chain Slings
We offer both grade 80 and grade 100 chain slings with capacities up to 67t . When used in conjunction with spreader beams chain slings offer a versatile rigging solution providing opportunities to alter the sling lengths to accommodate different centre of gravities without having to purchase specific length slings. Our chain slings are manufactured to BS EN 818-4 and are assembled in house for fast turnarounds as we hold a large stock of chains and components.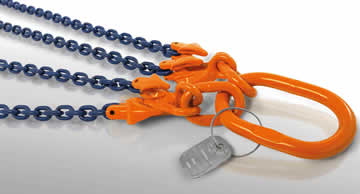 Polyester Round Slings and Web Slings
Polyester round and web slings offer both lightness and ease of use making for a versatile lifting system. The round sling is constructed of high tenacity polyester fibres which are protected by a durable polyester cover. Round slings offer great flexibility, moulding to irregular loads, minimise damage to those loads and have a very low weight to length ratio versus more traditional chain and wire options.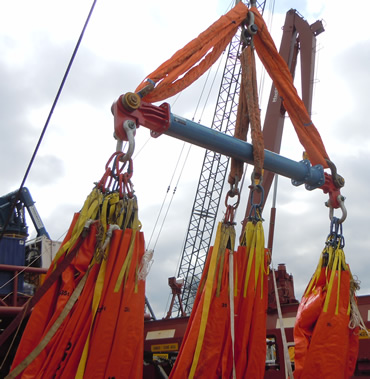 Flat web slings are offer in simplex or duplex and are constructed of 100% heavy duty polyester webbing. These slings are lightweight, less likely to scratch or damage the load, resist mildew and bacterial growth, and have excellent elongation properties versus their nylon counterparts. For use in choker, vertical and basket hitches. Both Polyester round and web slings can have protective sleeves fitted for even greater durability. They can also fitted with a variety of end fittings including hooks, eyes, load plates and master rings.