SectionLift Modular Spreader Beams - What are they?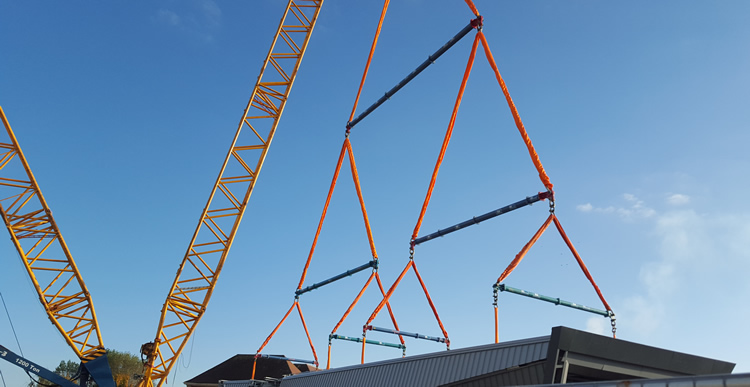 SectionLift 420-400-300 Spreader Beam fitted with Van Beest Green Pin Power Sling Shackles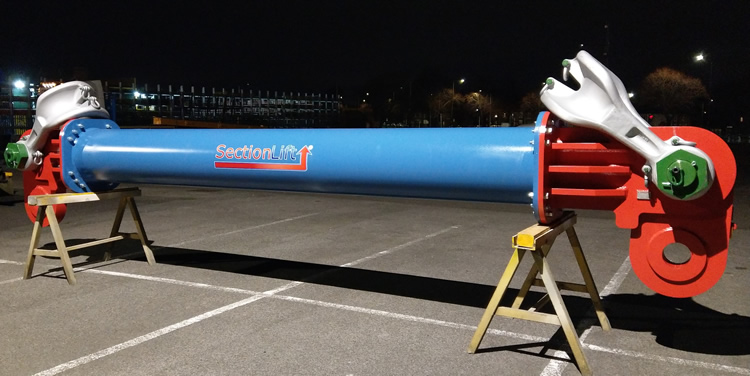 SectionLift modular or sectional spreader beams are a versatile system of interchangeable components which are assembled to provide a wide array of lifting solutions from simple 2 point spreader beams to complex multi-beam lifting rigs. They can be assembled to form virtually any span or configuration of lifting rig allowing for a cost effective lifting solution for a wide range of lifting and handling applications. These type of beams have a number of advantages over traditional fixed span or fixed configuration lifting beams including:-
Cost effective - Only a small number of components are required to make up a variety of spans and configurations.
Versatile - Sectional lifting beams can be configured into virtually any lifting rig to enable the most complicated of structures to be lifted.
Storage - Sectional lifting beams can be dismantled and stored in a relatively small space saving valuable space in your premises.
Handling - These type of beams are able to be handled more easily than conventional fixed spreader beams.
Transport - Transport costs can be reduced as the beams can be shipped in component form thus requiring a smaller, more cost effective vehicle.
High lift capacity to size ratio - Relatively small modular lifting beams can lift high loads compared with fixed lifting beam configurations.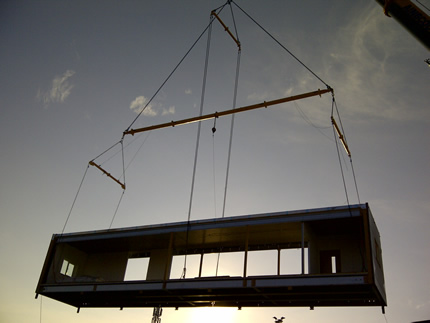 SectionLift 80 Multi-Beam Lifting Rig designed to install Portakabin's new range of Ultima modular buildings on site. The system is capable of 20 tonne SWL at 18m span, can accommodate 6 or 8 lower lift points and cater for center of gravity adjustments for both length and width.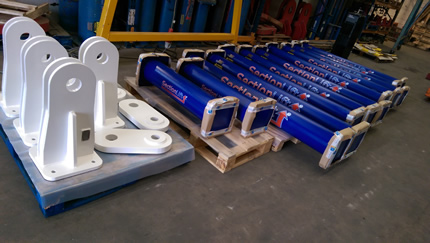 SectionLift 50 Spreader Beam equipment ready for dispatch.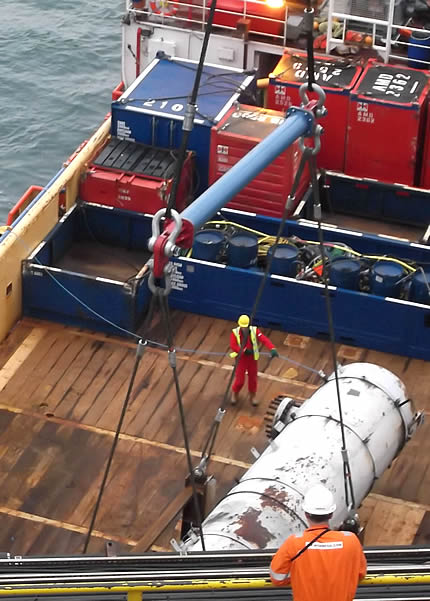 SectionLift 110 Spreader Beam carrying out a Ship to Rig transfer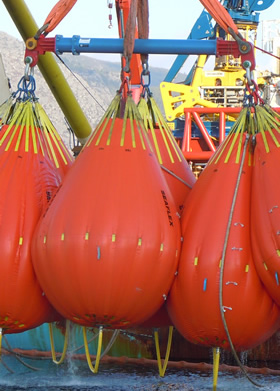 300 Tonne Proof Load Test Using a SectionLift 240 Modular Spreader Beam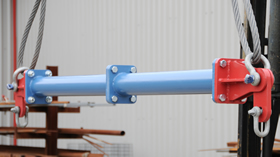 SectionLift 20 Spreader Beam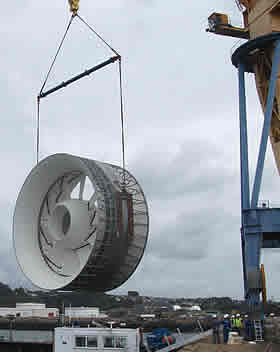 SectionLift 240 Spreader Beam - 175 tonne SWL at 15.5m Span Loading a Sea Turbine For OpenHydro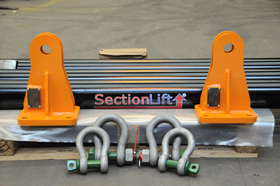 SectionLift 10 beam finished in our customer colour scheme ready for dispatch. We are able to finish SectionLift beams in any colour you require. Please contact our sales team for information.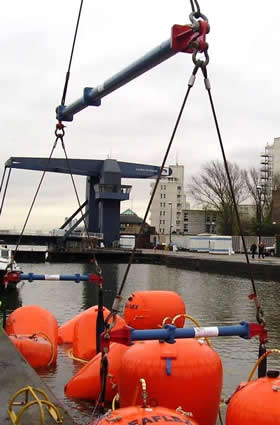 SectionLift 3 beam rig being used to recover a Sunken Barge in London Docklands
SectionLift Modular Range - Key Features
SectionLift 6
Minimum Beam Length: 500mm
Maximum Beam Length: 4 metres Max.
Load Capacity: 8 tonnes at 2 metres
6 tonnes capacity at 3 metres span
SectionLift 10
Minimum Beam Length: 500mm
Maximum Beam Length: 10 metres Max.
S
Load Capacity: 16 tonnes at 5.5 metres
10 tonnes capacity at 7 metres span
SectionLift 20
Minimum Beam Length: 500mm
Maximum Beam Length: 12 metres Max.
Load Capacity: 24 tonnes at 5.5 metres
20 tonnes capacity at 6 metres span
SectionLift 30
Minimum Beam Length: 1000mm
Maximum Beam Length: 14 metres Max.
Load Capacity: 34 tonnes at 6.4 metres
21 tonnes capacity at 9 metres span
SectionLift 50
Minimum Beam Length: 1000mm
Maximum Beam Length: 16 metres Max.
Load Capacity: 50 tonnes at 6 metres
40 tonnes capacity at 8 metres span
SectionLift 80
Minimum Beam Length: 1000mm
Maximum Beam Length: 20 metres Max.
Load Capacity: 80 tonnes at 11 metres
50 tonnes capacity at 15 metres span
SectionLift 110
Minimum Beam Length: 1000mm
Maximum Beam Length: 22 metres Max.
Load Capacity: 170 tonnes at 8.5 metres
110 tonnes capacity at 12 metres span
SectionLift 240
Minimum Beam Length: 1500mm
Maximum Beam Length: 26 metres Max.
Load Capacity: 240 tonnes at 10 metres
180 tonnes capacity at 13 metres span
SectionLift 420
Minimum Beam Length: 1500mm
Maximum Beam Length: 32 metres Max.
Load Capacity: 400 tonnes at 3.5 metres
240 tonnes capacity at 10 metres span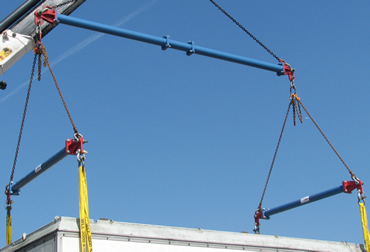 SectionLift 10 x 3 Beam Rig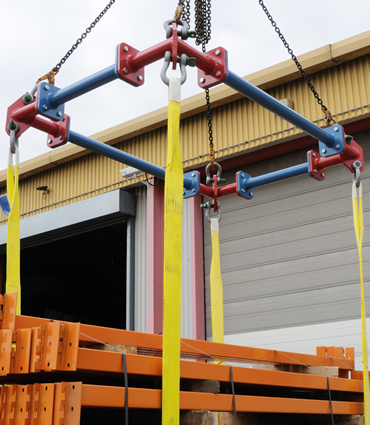 SectionLift 6 Lifting Frame

SectionLift 10 x 3 Spreader Beam Rig Lifting a Modular Building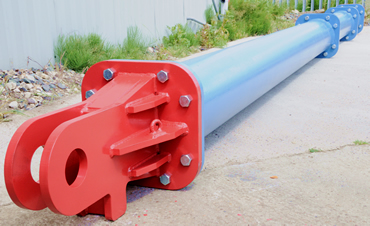 SectionLift 110 Modular Spreader Beam, 14m long